QS World University Rankings: ASIA 2022 Japanese universities need to increase international competitiveness,ranking reveals
London, 2nd November 2021: QS Quacquarelli Symonds, global higher education analysts,
released today the fourteenth edition of the QS World University Rankings: Asia - its largest to date - featuring 687 universities, including 40 new entries.
Ben Sowter, QS Research Director, commented: "The latest edition of our Asian ranking confirms that the Japanese higher education system is losing ground to its regional peers, in particular China.
It is essential to level the playing field for Japanese universities, secure substantial research budgets and optimise the distribution of funding across all institutions, not just the leading ones."
Sowter continued: "The announced ¥10 trillion government fund to boost research at Japan's universities is an important step in the right direction. Yet, more needs to be done to restore the international standing and competitiveness of Japanese universities. For example, reopening to international students and faculty, aligning with the other G7 countries, as soon as possible. Lastly, fostering university education in a country with a dwindling youth population and increasing economic disparity must go hand in hand with reforms to ensure the affordability of such an education."

The latest QS World University Rankings: Asia sees the National University of Singapore confirmed Asia's #1 institution for the fourth consecutive year. Peking University (2nd) takes the silver medal - having risen five places and achieved its highest rank ever since the inception of this league table. The University of Hong Kong and Nanyang Technological University (Singapore) are joint-bronze medalists. The University of Tokyo rises four places to the eleventh position and is named the regional leader for Academic Reputation and Employer Reputation. These two criteria measure an institution's standing among the international academic community (based on a survey of 130,000 academics) and global employers (based on the responses of 75,000 HR personnel and other managers with hiring responsibilities).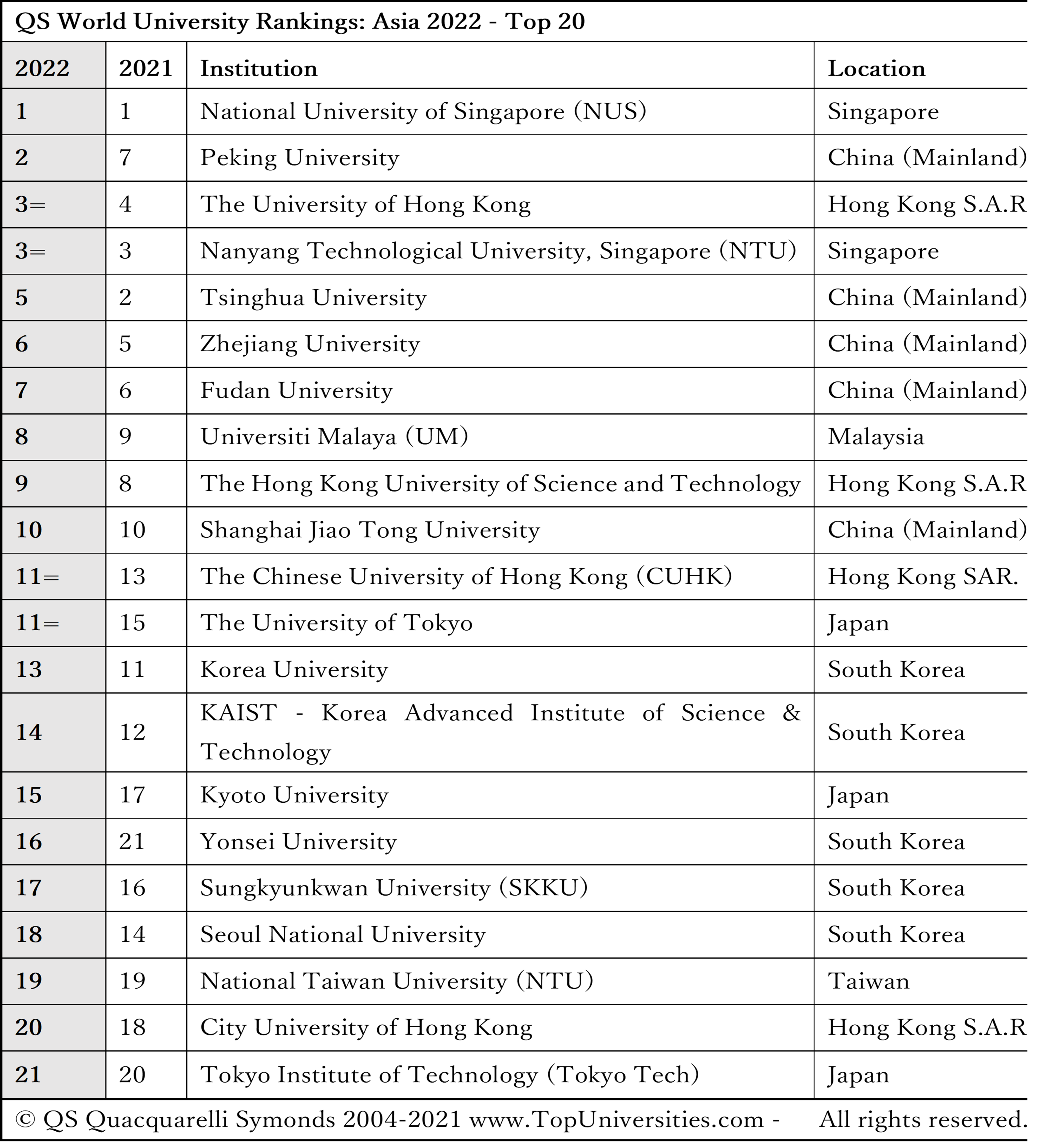 © QS Quacquarelli Symonds 2004-2021 www.TopUniversities.com - All rights reserved.

INSIDE THE DATA - JAPAN
a) This edition of the QS University Rankings: Asia sees 108 Japanese universities ranked. Only India (118) and Mainland China (126) have more.
b) Sixty-five Japanese universities dropped, thirty-six improved their positions, five unchanged, and two new entries.
c) International employers continue to hold Japanese universities in great esteem. Fourteen are among the top-100 for Employer Reputation, the highest proportion of any country featured in this table.
d) Japanese universities' classrooms typically have an excellent faculty/student ratio. Thirty universities feature among the top-100 in this indicator.
e) In contrast, Japan has only five universities among the top-100 in the Citations per Paper indicator and twelve in the Paper per Faculty indicator - 89% of the local universities lost ground in this metric.
f) Nine of the top-30 universities in the Academic Reputation indicator and eight of the top-25 Universities in the Employer Reputation indicator are Japanese.
g) Ten of the top-30 universities in the Faculty/Student Ratio indicator -- a proxy for the resources committed to teaching -- are Japanese. Tokyo Medical and Dental University (2nd) and Yokohama City University (4th) are among the top five regionally in this important indicator.
h) The Future University Hakodate is the regional leader for the proportion of Staff with PhD. The next best local performer is the Tokyo University of Agriculture and Technology, ranking 37th regionally in this metric.
i) Iwate Prefectural University is the best-placed Japanese university for Citations per Papers --a measure of research impact -- ranking 37th regionally for this research indicator. Nara Women's University is the only other local institution among the top-50. The University of Tokyo places 74th regionally, while The University of Kyoto places 79th. Interestingly, only five Japanese universities are among the top-100 in this metric, versus 15 South Korean universities and 53 from Mainland China.
j) Toyota Technological Institute in Japan is the best-national performer in the Papers per Faculty indicator-- a measure of research productivity --, placing fourth regionally. Twelve Japanese universities are among the top-100 for this criterion, while Chinese (Mainland) institutions take 49 places.
k) The University of Tokyo and The University of Kyoto are among the top-10 regionally in the International Research Network indicator, ranking 4th and 9th respectively. Fourteen Japanese universities feature among the top-100 per number of active international research collaborations and partnerships. Chinese (Mainland) institutions dominate this metric, with 40 of them placing in the top-100.
l) Ritsumeikan Asia Pacific University places fifth in Asia for the proportion of international students and eighteenth for international faculty, just next to Akita International University, which ranks sixteenth. Japanese institutions continue to attract international faculty and nineteen feature among the top-100 in this indicator. They also attract international students, with seventeen Japanese universities being among the top-100 for this critical criterion.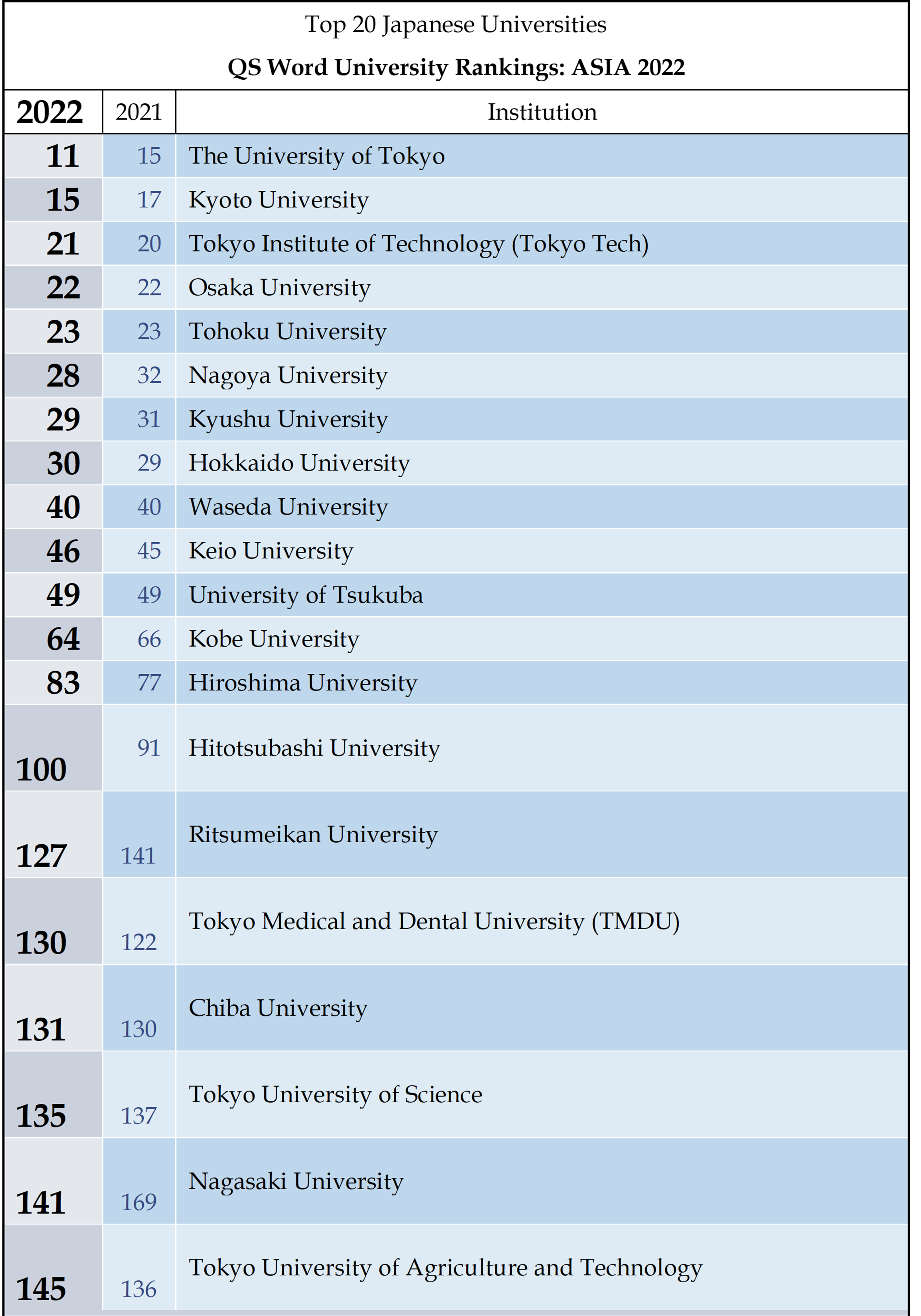 © QS Quacquarelli Symonds 2004-2021 www.TopUniversities.com - All rights reserved.

Methodology.
The full rankings can be found at www.TopUniversities.com from Tuesday 2nd November, at 19:00 JST.

-Ends-

For interviews with QS's analysts, please contact:

Simona Bizzozero
Director of Communications
QS Quacquarelli Symonds
simona@qs.com
+ 44(0)7880620856

Notes for Editors

QS Quacquarelli Symonds
QS Quacquarelli Symonds is the world's leading provider of services, analytics, and insight to the global higher education sector, whose mission is to enable motivated people anywhere in the world to fulfil their potential through educational achievement, international mobility, and career development.
The QS World University Rankings portfolio, inaugurated in 2004, is the world's most popular source of comparative data about university performance. Their flagship website, www.TopUniversities.com - the home of their rankings - was viewed 147 million times in 2020, and over 79,000 media clippings pertaining to, or mentioning, QS were published by media outlets across the world in 2020.